---
Classes offered in my comfortable 4400 sq. foot wokshop I have assembled a wide variety of equipment for you to learn and try your hand. My classes offer students the opportunity to explore and develop their skills. With a maximum of only four to six students per class, a hands-on approach ensures that everyone receives the personal attention they need.
My wife and I are welcome you into my home and shop. The skills that need to be mastered are not out of reach and we are here to make this happen. Courses include all the materials and attention you will need to develop you skills, including lunch and I hope a good time that you will remember.
You will learn a few things and improve your skills. Each class covers a lot of information, but please bring your questions as the format of the the class is flexible to suite the interests of the group.
Please feel free to contact me if I can answer any questions. I hope to see you and wish you the best in your learning experience.
---
Course Descriptions
The following courses are offered at various times during the year and can be scheduled and customized for your group.

MOST POPULAR -- BASIC BLADE FORGING, GRINDING & HEAT-TREATING ( 2 days)
This course combines my Blade Forging and Grinding courses. Day 1 will cover forging basics. Each student will forge a blade to shape and then grind to your own preference, either (hollow, flat or convex grind). On day 2 we will heat-treat in the morning. While the blade is in tempering cycle we will practice forging out additional blades. This is a good intro course. Everyone will go home with a blade ready for a handle.
Price $700.

BEGINNNG BLADESMITHING / FORGING COURSE (2 days)
This 2-day course is designed for anyone with little or no forging experience but an interest in making hand forged high performance knife blades. Topics to be covered include blade function and design, selection of steel, forging and safety. All students will gain a basic understanding of the techniques and importance of forging a blade to shape at low temperature and have hands-on experience using a gas forge. Techniques of differential heat treatment and its importance will also be discussed. This class is dedicated to the forging and heat treating of a blade in preparation to the making of a complete hand-forged knife.
Price $700.

INTRODUCTION TO DAMASCUS ( 2 days)
This course is designed for those with a some experience of forging and is interested in learning to make damascus steel patterns. Students will learn how to forge weld a billet and the proper use of temperature and flux. Topics to be covered include basic patterns, acid etching, steel compatibility, pattern variation and manipulation. Forging a blade to shape and its importance will also be covered.
Price $800.

BASIC TOMAHAWK MAKING (2 days)
For those with some forging experience and an interest in learning to forge a tomahawk head. We Will discuss design and function of various types of tomahawks. This course will cover the various methods of making a hawk including traditional and more modern methods. All students will complete a tomahawk head that they can take home to complete the haft.
Price $750.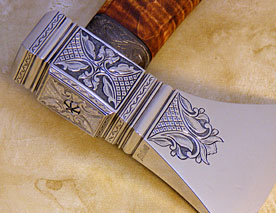 Basic Engraving (2 days)
Want to get started in metal engraving. This is a 2 day course that will give you the basic concepts needed to get started, with lots of bench time to practice. We will us a combination of GRS Engraving Systems and hand push gravers. We will not use practice plates. You will learn to do your own layout work learning basic scrolls and borders. You will also learn to sharpen and control you tools as you cut your design in steel.
Price $600.

MAKING A LINER-LOCK FOLDER (4 days)
In this course students will learn how to design and make a liner-lock folder with easy step by step instructions. We will also cover the contruction of all types of folders including lockback, frictions folders and slip joints. This class is designed for a person with some experience in knifemaking.
Price $1,400.
BLADE GRINDING - STOCK REMOVAL (2 days)
We will cover all aspects of knife grinding including convex, hollow and flat grinds. This course is good hands-on experience for knifemakers who use either the stock removal of forged methods of knife making.
Price $700.
BEGINNING CARVING (2 days)
For those with no previous carving experience. This course will cover design and layout. Will discus choosing the proper tools used in the carving of bone, ivory and steel. Both hand and power tools will be used. Each student will carve a simple geometrical design in bone and develop that into the more complex. A discussion on how the techniques learned in geometric designs will be utilized when the student later advances to carving wild life and other figures.
Price $700.
BASIC LEATHER SHEATH MAKING (1 day class)
Bring your straight knife to this one day class. We will introduce you to the tools and techniques to make a basic handmade and hand stitched leather pouch sheath form fitted to your knife. You will leave this class with a sheath for your knife and the skills needed to design a pouch sheath to accommodate a variety of blade styles. All materials included
Price $300.