Tomahawks
---
I enjoy making tomahawks because there are a great variety of variations. Most pieces are one-of-a-kind presentation hawks or smoking pipe tomahawks. All of my hawks are functional working pieces, all balanced and tested. Also see my miniature tomahawks.
Prices for throwers and spike tomahawks start at $425.00 and up. Please give me a call for pricing on a Pipe Hawk.
---
Click on photos to enlarge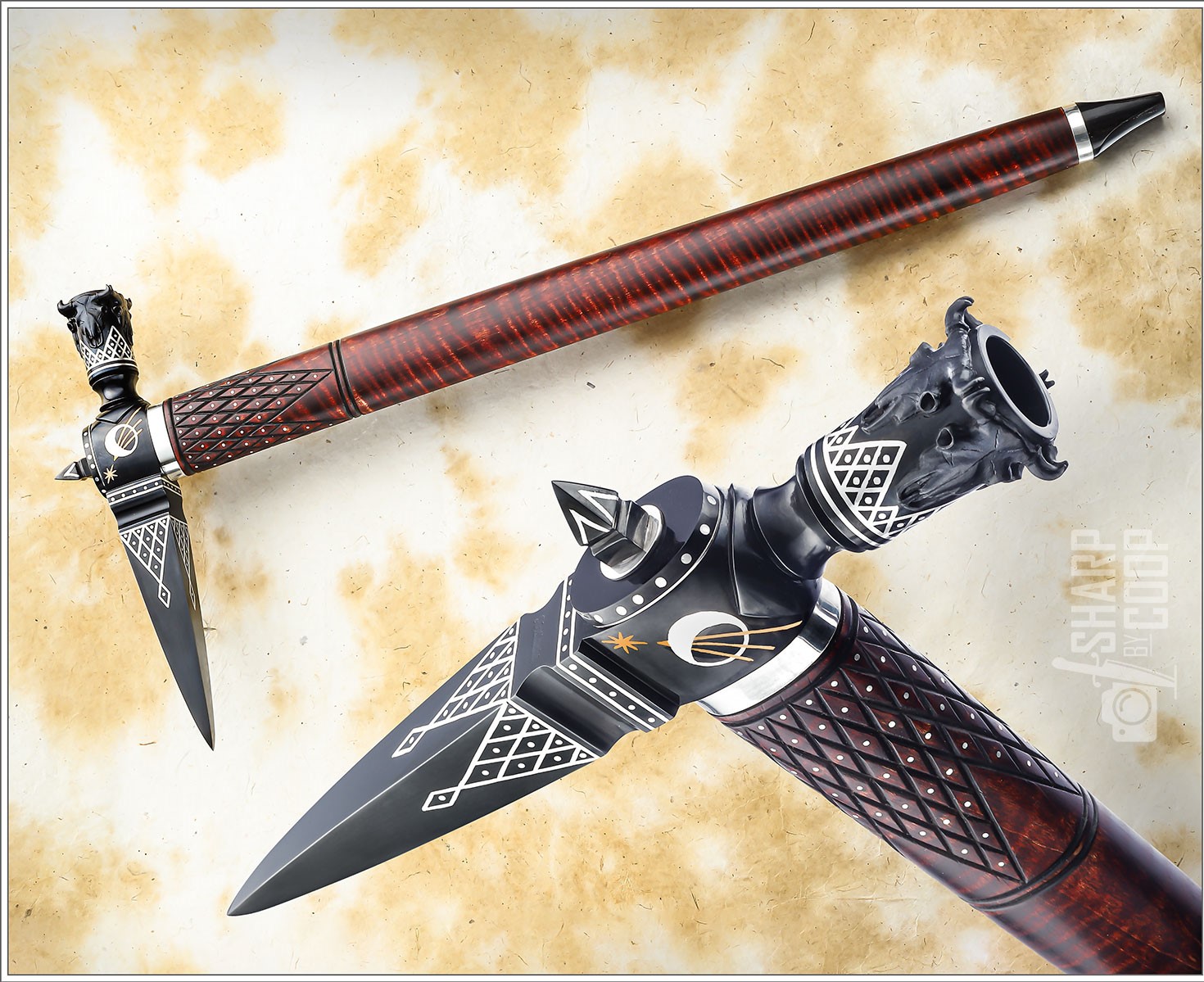 4 Buffalo Spike-Pipe Tomahawk
This tomahawk head is hand forged of W2 tool steel. There are 4 buffalo heads carved in deep releaf. Head also features a rich gun blue and much silver inlay. The shooting star inlay is gold. The haft is curly maple with checkering and silver bands, the mouth piece is buffalo horn.
Yes - it smokes.
AVAILABLE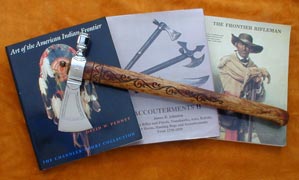 Patriot Pipe Tomahawk
Featured on the cover of "Blade Magazine" Dec. 2000 issue
Reproduction of a French and Indian War era piece. The head is forged out of W1 tool steel and the haft is carved hickory. A fully hardened and functional piece.
Available by Order Only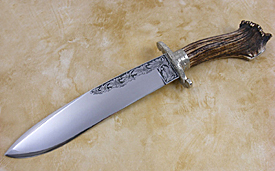 Bowie
It has an 8 3/4 inch blade about 1 1/2 inch wide forged of 1095 tool steel with a selective heat treat and triple quench. It has an S guard of Nickel Silver engraved top and bottom, and Indian Stag handle with an eagle head carved on the crown.
- SOLD.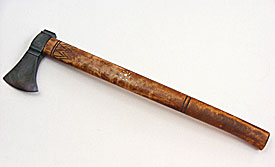 Presentation Throwing Hawk
The haft is maple and has silver pins. The head is forged of W2 tool steel with a differential heattreat and triple quench. The head is engraved and gun blued.
SOLD.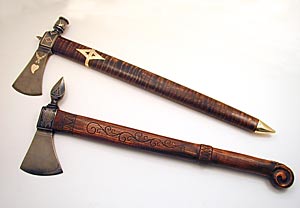 Presentation Pipe Hawk
Forged W2 tool steel head A weeping heart of brass inlayed into face and Brass inlays lightening bolts on face Wire inlays through out head and chevron. Mouth piece formed in brass.. Curley Maple heft brass ring, overlays and tacks. Sold

Presentation Spike Hawk
Early European style influences this forged W2 tool steel head Engraved head and spike. Heft ornately shaped of ash wood with decorative carvings. Sold

Gun Stock Tomahawk
Curly Maple haft with silver inlay and carved snake on grip. Head forged of W2 tool steel. Sold


A pair of Throwing Hawks, and a Pipe Hawk.
All forged of S5 tool steel. Silver chain on pipe tomahawk, symbolizing unbroken friendship. Sold


A Pair of Presentation Pipe Tomahawks
These pipe tomahawks were originally made for Colt Firearms Custom Shop. Hafts are tiger maple with silver inlay. Sold


Pipe Tomahawk and a spike pipe tomahawk.
The presentation piece at top was original made for Colt Firearms Custom Shop. Sold


Damascus Spike Tomahawk
Lots of silver inlay all around the haft of this presentation piece with damascus head. Sold


Pipe Tomahawk
Brass inlay of a "Bleeding Heart" in the head and brass diamond inlays on the chevron. Brass tack adorn the heft. Not shown is the bear claw tassel that hangs from the heft. Sold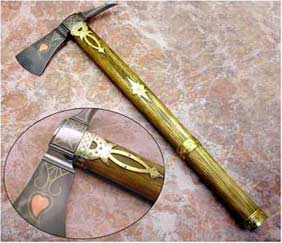 Presentation Spike Tomahawk
This is an elaborately worked spike tomahawk. One of a kind piece, forged of W1 tool steel and inlayed with brass and copper. The heft is hickory with brass overlays. Sold
Photo by Jim Cooper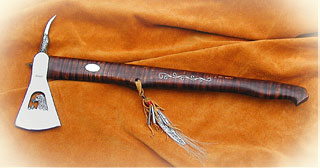 Eagle Head
Spike Tomahawk
Hawk head forged of W2 tool steel with eagle head carved against a mountain scene. Spike is carved into an Eagle talon. Haft is curly maple with silver inlay and eustachian plate. Decorated with horse hair, glass beads, and a carved feather. Sold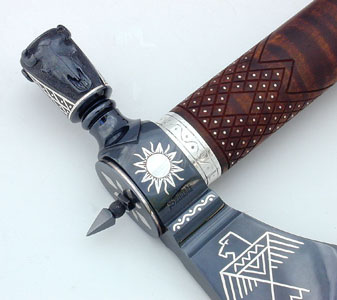 Buffalo Head Pipe Tomahawk
Hawk head forged of W2 tool steel with a pair of buffalo heads carved in high relief into the bowl. Silver inlays on head form the sun and a thunderbird. Haft is curly maple with silver pins.
CLICK PHOTO ON LEFT FOR ADDITIONAL PHOTOS OF THIS PIECE
Sold
---
Home | Ordering Info | Std. Models | Available | Show Schedule | Shop Tour
Art Knives | Folders | Fighters | Tomahawks | Miniatures