News !
KnifeMaking Classes
The School of Knife and Tomahawk Making Classes in knifemaking, bladesmithing, forging and engraving, in small groups where you can gain hands-on experience in my well equipped 4,400 square foot shop
Weekend and one week clasees for both forged and stock removal methods.
Folders, straight knives, tomahawks.
Blacksmithing, Engraving & Inlay, Carving.
---
Class Schedule
Blade Forging, Grinding & Heat-treating
&nbsp &nbsp &nbsp Aug 11 - 12 2018 Sat-Sun
Tomahawk Forging
&nbsp &nbsp &nbsp Sep 22 - 23 2018 Sat-Sun
Blade Forging, Grinding & Heat-treating
&nbsp &nbsp &nbsp Oct 27 - 28 2018 Sat-Sun
Complete Knife (4 days) Forging, Grinding, Heat-treating, and Handles - Combination Class
&nbsp &nbsp &nbsp Dec 8 - 11 Sat-Tue

If you are interested in any of the above, please send an email or give me a call - thanks
&nbsp
Now Available !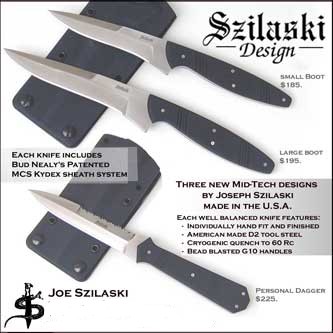 Welcome, and thank you for your interest in my work. My experience in metal work begins as a teenager in Europe. I am now a full-time knifemaker living in upstate New York. I'm a voting member of the Knife Makers Guild and an American BladeSmith Society "Master Smith". My work has won several awards over the past years and has been featured in "Blade Magazine" I am proud to have had one of my pieces featured on the cover of the "Knives '99 Annual" and the cover of the Dec 2000 issue of "Blade".

I am honored to serve as BLADE Magazine field editor and to co-author their monthly "Question & Answer" column with ABS master smith Wayne Goddard.

Most of my knives and tomahawks are one-of-a-kind designs some with carvings in ivory, pearl and damascus steel. All my knives and hawks are functional working pieces, most are differentially heat treated and triple quenched. They will perform extremely well for their intended tasks. Pictured on these pages is a sampling of these works, along with information on currently available pieces. I also offer a few standard designs, made by myself, with the same care and patience as my one-of-a-kind pieces.

Feel free to contact me with any questions you may have. I will do my best to provide a knife that lives up to your expectations.